I just took a Funkey IQ test just for fun, and I am a bit embarrassed to say that I don't think I did so well! There is a website called Nerdtests.com that I saw this morning for the first time. I couldn't find if it listed the correct answers somewhere, but I can tell you which questions that I was not positive about. I should probably know this, but which Funkey is best at singing? Which is the toughest? (If you know the answer, you can take the test and see how you did) I thought I knew the rest, but my score wasn't so good! It was 50%. But then again, I think it just compares your answers against other people's answers who took it, not necessarily if they were correct answers or not. Anyway, you can check it out through the link below. You can even create your own test!

We now know who created that awesome UB Funkey IQ test! It was Chris (aka frogboy96), you can visit is blog at http://ubfunkeyworld.blogspot.com/
I apologize to Chris that I didn't realize that sooner. After all, he did leave a comment a few days ago about it but I missed reading it.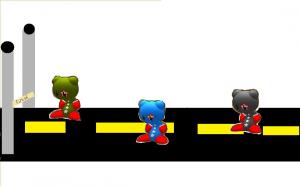 My Result: congrats, you have completed the test
-= http://www.nerdtests.com/mq/uttake.php?id=49491 =-